Liposomal NMN is designed to boost your NAD+ levels naturally. Research shows your NAD+ levels determine your biological age and how you feel. Clinical studies show boosting your NAD+ could help you feel younger and more energized while at the same time optimizing your lifespan.
Promotes Mitochondrial Health
Supports DNA Repair
"Recharges" Your Energy Levels
Boosts Cognitive Functions
"Rewinds" Your Biological Age
Select Your Package
(The More You Buy, the More You Save)
MSRP
$79.95
Now Only
$69.95
Save

$10.00
Upgrade To 3 3 bottles Or More For Savings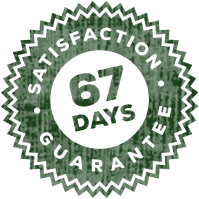 Money Back Guarantee
Try any of our products RISK FREE for 67 days and if they do not work for you, send back the empty containers and we will issue you a prompt, hassle-free refund.