Curcleve® is formulated to help strengthen your immune system and reduce painful inflammation. This powerful immune system booster also promotes brain health as you age and helps microbiota in your gut flourish and thrive. Taken in just one daily dose for 24-hour circulation, Curcleve may help to:
Fortify the Immune System
Provide Enhanced Natural Anti-Inflammatory Effects
Promote Gut Health
Ease Joint Pain
Support Working Memory
Be Absorbed 285 Times Better Than Standard Curcumin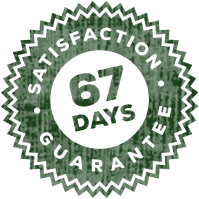 Money Back Guarantee
Try any of our products RISK FREE for 67 days and if they do not work for you, send back the empty containers and we will issue you a prompt, hassle-free refund.