Are you looking and feeling older than you'd like? Are you constantly feeling worn out and tired? If so, you are most likely suffering from a Human Growth Hormone (HGH) deficiency. As we age, our body produces less and less of this essential, youth-giving hormone.
But, you don't have to worry because you can fight and even reverse the aging process with GenF20® Plus. This all-natural supplement is doctor-approved and clinically-proven to naturally boost your body's HGH production.
Here are just some of the many benefits you can enjoy with more HGH:
Look and Feel Up to 10 Years Younger
Lose Fat and Gain Lean Muscle
Improve Your Stamina and Metabolism
Watch Fine Lines and Wrinkles Fade Away
Have the Best Sex of Your Life
Select Your Package
(The More You Buy, the More You Save)
MSRP
$79.95
Now Only
$69.95
Save

$10.00
Upgrade To 3 3 boxes Or More For Savings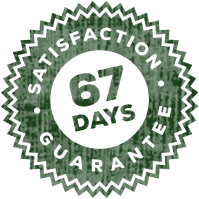 Money Back Guarantee
Try any of our products RISK FREE for 67 days and if they do not work for you, send back the empty containers and we will issue you a prompt, hassle-free refund.