Have you been trying to start a family with no luck? Have you been diagnosed with low sperm count or poor sperm development? Don't worry; all hope is not lost. The ingredients in Fertility Factor 5 have been clinically proven to:
Improve Sperm Count
Improve Sperm Morphology (Shape)
Improve Sperm Motility (Movement)
Increase Semen Volume
Enhance Libido
Select Your Package
(The More You Buy, the More You Save)
Upgrade To 3 Month Or More For Savings
You Get:
1 Bottle of Fertility Factor 5!
Upgrade To 3 Months Or More For Savings!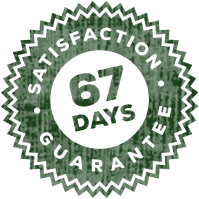 Money Back Guarantee
Try any of our products RISK FREE for 67 days and if they do not work for you, send back the empty containers and we will issue you a prompt, hassle-free refund