Mushroom Defense™ is a powerful 10-fold blend of mushroom mycelium and fruit bodies. These ingredients help improve immune function and encourage a rapid defense response on a cellular level. The mushrooms selected for this unique formula have been extensively researched and are the most popular fungal option for benefiting your health.
Boosts Immune System Function
Elicits Rapid Defense Response
Powerful Antioxidative Properties
Promotes Mental Clarity & Concentration
Increases Daily Energy
Improves Overall Well-Being
Select Your Package
$69.99
$59.99
Save

$10.00
Total:

$59.99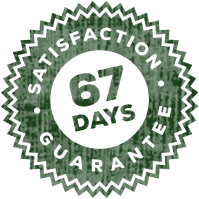 Money Back Guarantee
Try any of our products RISK FREE for 67 days and if they do not work for you, send back the empty containers and we will issue you a prompt, hassle-free refund.